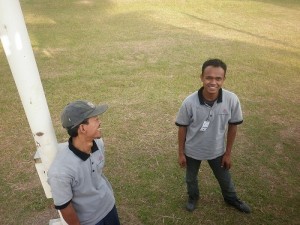 PT. Gas Depo Industry adalah perusahaan liquid dan gas industri terintegrasi berbeda dari perusahaan gas lain. Didirikan tahun 1996 dan disempurnakan pada tahun 2006 dengan pengalaman , kesungguhan , dan kerja keras serta didukung kepuasan pelanggan sebagai mitra kerja, PT. Gas Depo Industry siap membantu "A to Z " kebutuhan liquid & gas Industri Anda.
Bisnis utama PT. Gas Depo Indusrty menjual liquid dan gas medis , gas industri dan gas special seperti Oxygen (O2) , Nitrous Oxide (N2O), Udara Tekan ( Compressed Air ), Nitrogen (N2), Hydrogen (H2), Acetylene (C2H2), Carbon Dioxide (CO2) , Argon ( Ar), Argonshield, Propane (C3H8) , Helium (He) , Methane (CH4) , Carbon Monoxide (CO), Amonia (NH3) dll. PT. Gas Depo Industry menjual dan stockist Specialty gas seperti Hydrogen Sulphide (H2S) , Hydrocarbon gas & Reactive Blend (Methane , Ethane , Ethylene , dll), Calibration Gas , dan Rare Gas (Krypton , Neon , Xeon , Sulphur Hexafluoride (SF6), Nitric Dioxide , Propylene , dll) . Semua gas dalam spesifikasi yang dikehendaki pelanggan : Welding Grade (WG) , High Purity (HP) Grade, Ultra High Purity (UHP) Grade.
PT.Gas Depo Industry juga menjual tabung gas ( High Pressure Clynder ) 1M3 s/d 10M3, Very High Pressure Cyrogenic Cylinder , PGS , VGL , Industrial Welding Equipment, Regulator.
Service PT. Gas Depo Industry meliputi High Gas Pressure Installation , Purging Pipe , Tank & Bulk , Distribution , Project Supervisory & Consultation , Cradle Rack Rigging, Pipeline , Marine Underwater Service, Constuction and Installation of Filling Station, Hydrostatic Test Clynder, Fire & Safety Equipment.
Produk kami sudah dipakai oleh perusahaan Heavy and Light Indusry , Oil & Mining Company , Hospital , Research Entities , Building , Logistic, dll
PT. Gas Depo Industry akan selalu konsisten dan profesional dalam melaksanakan bidang usaha tersebut dan kami akan terus berusaha meningkatkan kualitas , services dan profesionalisme agar seluruh customer kami merasa puas dan memposisikan kami sebagai partner bisnis terdepan mereka.
Try us and Feel the Different !