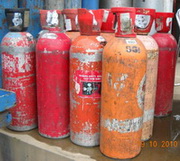 Jual Gas Co2 dengan kualitas terbaik dari PT. Gas Depo Industry. Carbon Dioxide  (Co2) merupakan gas atmosferik yang terdiri dari dua atom Oksigen dan satu atom Karbon. Campuran kimia yang sudah amat dikenal luas, sering disebut dengan rumus kimianya CO2. Karbondioksida adalah bagian dari atmosfer bumi, digunakan oleh tanaman untuk fotosintesis juga merupakan gas yang kita keluarkan pada saat bernafas. Karbon Dioksida adalah gas yang ditambahkan ke air untuk membuat air soda. Produk Gas Karbondioksida (CO2) PT. Gas Depo Industry tersedia dalam grade : Food Grade, High Purity HP, dan Ultra High Purity UHP.
PT. Gas Depo Industry memasok Karbondioxide dalam bentuk gas maupun cairan (liquid), dan juga dalam bentuk padat yang umumnya disebut  dry ice (es kering) untuk digunakan dalam:
Metalurgi
Welding, Inerting, Heat treating, Cryo forming
Kertas
Kontrol pH dalam Proses Pembuatan Kertas dan pencucian kertas
Kimia dan Petrokimia
Injecting, Purging
Elektrik dan Elektronik
Purging, Pembangkit Listrik (Power Generation)
Agrikultur/Makanan
Purging, Refining (Sugar), Glass house, Packaging MA/CA (Modified Atmosphere/Controlled Atmosphere), Storage MA/CA, Transportation MA/CA, Freezing, Supercritical extraction, Refrigeration, Case hardening, Rats eradication, Cryogrinding, Carbonation (sugar), Blanketing, Carbonated soft drink
Medis
Cryosurgery
Gelas, Kaca dan Lampu
Bulbs and tube
Lain-lain
Fire And Safety Equipment, Process gas chromatography, Research, Purging pipe, O2 free pressure testing, Acid controlled, Road joint removal, Soil freezing, Chewing gum removal, Emergency cold supply, Cooling cement mix, Laser, etc.
Untuk pemesanan produk Karbon Dioksida atau Co2 segera hubungi tim sales dan call center kami.
Call Center : 08179867722
E-mail : sales@gasdepo.co.id