Jual Gas Helium UHP atau Ultra High Purity 99,999% grade dengan harga murah bersaing, ready stock, kualitas isi presissi tinggi, delivery cepat dan pelayanan yang dapat diandalkan dari PT. Gas Depo Industry. kami adalah perusahaan agen distributor supplier dan tempat isi ulang serta refill gas Helium (He) Ultra High Purity (UHP) 99,999 % untuk berbagai kebutuhan industri Anda seperti Oil and Gas, Laboratorium, Chemical and Petrochemical Industry, Arc Welding, Diving (menyelam), Balon Udara, Medis, dan sebagainya, gas helium tersedia dalam kemasan tabung 1m3, 6m3, 7m3, dan 10m3 tekanan 200 Bar.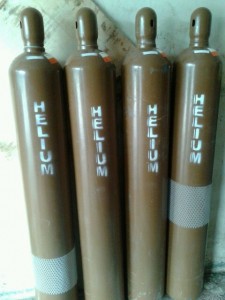 Apa itu Gas Helium? Gas Helium dengan rumus kimia He lebih dikenal oleh masyarakat sebagai gas pengisi balon udara agar balon menjadi terbang. Gas Helium (He) adalah unsur kedua terbanyak dan juga kedua teringan setelah gas Hydrogen (H2), menempati 24 % unsur massa di alam semesta. Gas ini bersifat tak berwarna (colorless), tak berbau (odorless), tak ada rasa (tasteless), tidak beracun (non-toxic) dan lebih bersifat inert. Pada skala industri produksi gas Helium merupakan by product dari minyak dan gas bumi, produsen terbesar saat ini adalah Amerika Serikat dan yang kedua adalah Ras Laffan di Qatar.
Segera hubungi tim sales dan call center kami untuk pemesanan produk gas Helium (He) Ultra High Purity (UHP) 99,999 % dari PT. Gas Depo Industry.
Call Center : 08179867722
E-mail : sales@gasdepo.co.id