Jual Gas Propane (C3H8) atau gas propana yaitu gas yang sering dipakai oleh masyarakat sebagai bahan bakar sumber energi panas (fuel combustion) seperti untuk memasak, memanaskan oven, dan sebagainya. Gas ini berbentuk cair (liquid) dan biasanya didistribusikan melalui tabung-tabung baja atau tanki lorry dimana gas ini dihasilkan dari hasil akhir pemrosesan kilang minyak dan gas bumi.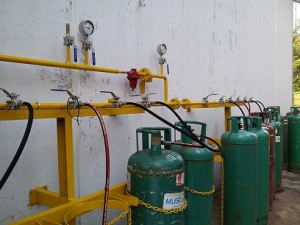 Gas Propan (C3H8) termasuk jenis gas yang mudah terbakar (flammable) dan kadang-kadang bisa digunakan sebagai refrigerant (gas pendingin). PT. Gas Depo Industry jual gas Propane (C3H8) dan merupakan agen dan distributor gas propana berpengalaman dan juga terpecaya, selain gas propan tempat kami juga jual dan menyediakan gas-gas industri lainnya seperti : Oksigen (O2), Nitrogen (N2), Argon (Ar), Karbondioksida (Co2), Hidrogen (H2), Helium (He), Acetylene (C2H2), Nitrous Oxide (N2O), Methane (H4), Mixed gas (Heliox, Hemix, Arsil, Arcal) dan lain-lain, lengkap dengan tingkat kemurnian atau purity yang dikehendaki pelanggan yaitu : Welding Grade (WG), High Purity (HP) Grade, Ultra High Purity (UHP) Grade.
Silahkan hubungi tim sales dan call center kami untuk pemesanan gas propane (C3H8) atau Propana atau Propan. Kepuasan Anda adalah tujuan kami. Try Us and Feel the Different !
PT. Gas Depo Industry
CALL CENTER : 08179867722
E-MAIL : sales@gasdepo.co.id