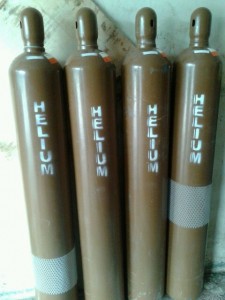 Supplier Gas Helium (He) terlengkap dengan kualitas presisi purity yang terjamin, jaminan supply prima, dan harga murah bersaing dari PT. Gas Depo Industry. Kami adalah perusahaan gas medis, gas industri, dan gas spesial terintegrasi yang menjual dan stockist Gas Helium (He) untuk berbagai kebutuhan industri Anda seperti untuk pengisian Balon Udara, Oil and Gas, Laboratorium, dan sebagainya. Gas Helium (He) kami tersedia dalam Grade Ultra High Purity UHP 99,999% dan kapasitas tabung gas Helium (He) yang dikehendaki pelanggan : 1M3, 1.5M3, 6M3, 7M3, dan 10M3 serta dengan pressure 150 Bar – 200 Bar.
Selain gas Helium (He) kami juga menjual gas-gas industri lainnya seperti : Gas Oxygen (O2), Argon (Ar), Nitrogen (N2), Carbon Dioxide (CO2), Hydrogen (H2), Acetylene (C2H2), Nitrous Oxide (N2O), Methane (CH4), Propane (C3H8), Compressed Air (Udara Tekan), Amonia (NH3), Hydrogen Sulfide (H2S), Elpiji Pertamina LPG, Arsil, Heliox, Hemix, dan gas-gas industri lainnya lengkap dengan purity grade yang dikehendaki customer : Welding Grade (WG), High Purity (HP) Grade, dan Ultra High Purity (UHP) Grade.
Segera hubungi tim sales dan Call Center kami untuk mendapatkan pelayanan gas Helium (He) dari PT. Gas Depo Industry dan rasakan perbedaannya. Try Us and Feel the Different !
CALL CENTER : 08179867722
E-MAIL : sales@gasdepo.co.id